WILLIAM SCOLNIK
Precision Horology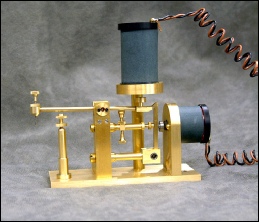 The heart of the clock is the mechanism used to impulse the pendulum and this occupied a good deal of time designing and fabricating. I took an approach that seemed very basic but not without complication. I fixed a pair of pallets to the pendulum rod at right angles to the knife edge suspensions. Then, I designed a mechanism that would drop a fixed weight alternately on each pallet. The small weight arms are dropped by electromagnetically releasing a holding arm. A second electromagnet resets the armafter it has been dropped. These actions take place as the pendulum passes the center of its excursion.
The impulse mechanisms each consist of two electromagnets, one for dropping the weight arm on to the pallet and one for resetting the weight arm. The weight arms carry a small "hammer" at their ends fitted with a small sapphire strike. This falls on a hardened steel pallet attached to the arms mounted on the trunnion, giving impulse. The weight arm pivots are mounted in sapphire jewels to minimize any friction, and the jewels are mounted in screwed down settings. Micrometer adjustments on the hammers as well as hammer stops permit complete travel and limit control of the hammers. The impulse mechanisms are operated using relay logic consisting of 4 CP Clare mercury relays (three latching) controlled with 3 HE devices mounted on the base of the clock under the lower pendulum bob.
A closeup of the impulse mechanism showing the sapphire "hammer" and the steel pallet.
In this photograph you can see the layout of the impulse arms in relation to the impulse mechanisms.
A photo showing the entire impulse module (before the sapphire hammer was added).
A closeup of the release mechanism. The solenoid on the left pulls on the vertical arm which normally rests on a sapphire "blade". That causes the hammer arm to drop on the pallet. The coil on the top resets the hammer arm.